Buying a hot tub is the first step to soaking your cares away. When you select your model, make sure to double check if it needs 110V or 220V. If it's 110V, you can simply plug it in. But if your hot tub uses 220V, you need an electrician to convert the outlet and modify your breaker box. Both 110V and 220V hot tubs provide amazing relaxation, so see which version is right for your home.
110V Hot Tubs
Good news – because most homes are wired with 110V outlets, you don't need to change your outlets or circuit panel to install a 110V hot tub. These are literally plug-and-play models!
110V hot tubs typically have two or four seats. Their smaller size makes them ideal for small patios, decks, and backyards. The convenient size and standard power of a 110V hot tub is also perfect if you're renting an apartment.
These 110V hot tubs deliver hours of soaking time with:
Upwards of 25 jets
Two jet speed settings
Accessories like built-in lighting and music speakers
For example, our Marquis Nashville Elite is a two-person lounger that runs on 110V. Marquis also offers the Vector21 V65L that holds three people. And our Dreammaker line has three plug-and-play spas: Cabana (four people), Crossover (up to 6 people), and the Stonehedge Collection (2 people).
The only real drawback of a 110V hot tub is that you can run the jets or the heater, but not both. That's not a big deal during our steamy Iowa summers. But it might be something to consider if you want to enjoy your hot tub in the fall or winter.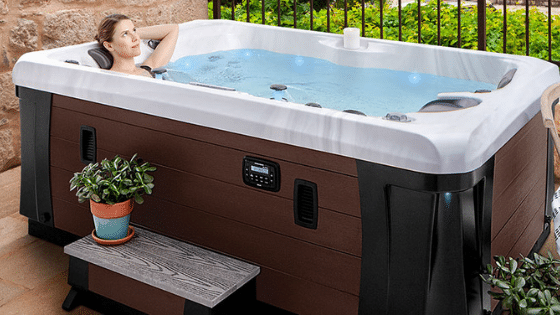 220V Hot Tubs
The bigger the tub, the more power it needs. Because large tubs have more spacious seating and hold more water, they almost all exclusively use 220V power. You're probably already familiar with 220V outlets because they're the same ones used for electric dryers, stoves, and water heaters.
These 220V models usually draw 50-60 amps (110V models are about half that). You need additional power because there is more water to circulate, water to heat, and jets to run. You wouldn't put a 4-cylinder engine in a Hummer or a Jeep and expect it to perform well.
One big advantage of 220V over 110V hot tubs is that you can run heat and jets simultaneously. Other benefits that come with 220V spas include:
Larger seating capacity
Extra jets
Additional massage settings
Faster heating time
At 220V, most of our Marquis Vector21 models seat 6-7 people, provide 36-44 jets, and offer a variety of massage modes. The Marquis Signature Series also has versions that hold up to 7 people and have 80 jets.
Hiring an Electrician
It's a breeze to hire a licensed electrician, though; our store staff are happy to provide referrals! Just make sure your electrician will follow the National Electric Code (NEC), which has specific installation requirements for hot tubs.
The cost to upgrade electrical to 220V varies – factors like the market price of copper, individual contractor rates, and length of the conduit run affect the price. Jobs can last a few hours to a whole day. But once your upgrade is complete, you can relax and enjoy your 220V hot tub with friends and family.