We love helping homeowners purchase their first hot tub! We get just as excited thinking about how this amazing feature will enhance your own backyard. But before you can unwrap your pretty new spa and jump in, if you're planning to house your hot tub on a deck, you'll need to reinforce it. This is because a typical deck isn't designed for the weight of a hot tub full of water and people. Learn how to strengthen your deck so you can start enjoying your spa.
Hot Tubs are Massively Heavy
Did you know that residential decks are commonly rated to hold 50 pounds per square foot? This rating isn't just a good rule of thumb—it's actually required by your municipal building code. While this capacity is perfect for people, grills, and patio furniture, a hot tub is significantly heavier! To safely support a hot tub, a deck needs to handle upwards of 150 pounds per square foot.
Here's how the math works out:
1 empty hot tub = around 800 pounds
1 gallon of water = just over 8 pounds
1 full hot tub = anywhere from 200 to 500 gallons
1 person = average of 200 pounds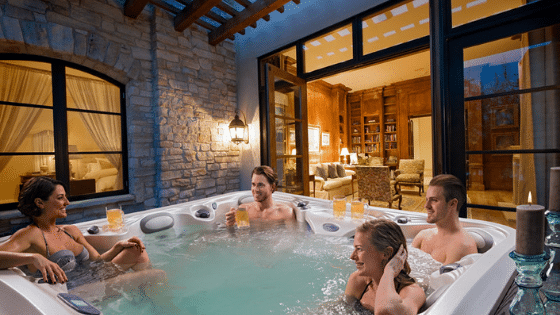 Let's assume your new spa has seating capacity for 6 people and holds 400 gallons—that's close to 4,500 pounds! Imagine the stress of adding over 2 tons to your deck's planks and supports. That's heavier than a VW Beetle, Ford Focus, or a Toyota Camry. Your poor deck simply isn't cut out for that kind of pressure.
Time to Call a Pro
So you've done your homework and picked out the perfect new Marquis Spa for your home. Next, you will need to hire a certified home contractor to strengthen your deck. These professionals have the right engineering knowledge and construction tools to complete the work correctly and safely.
Not sure who to call? Don't worry, we got you! We have a list of Splash Pool & Spa recommended professionals we can refer you to. Just give us a call or shoot us a quick note.
These professionals will calculate factors like bearing capacity of the soil, snow loads, and footing size. This allows them to determine which additional components will increase the deck's capacity rating. Even a deck that's 36 square feet (6 foot by 6 foot) might need a new base or additional posts, joists, ledger boards, and cement footings.
A professionally reinforced deck also makes it easier to install your new hot tub. Our technicians will collaborate with your home contractor to ensure there is proper access to the spa's control panel for maintenance and repairs. They can also confirm that the cover lifter has the right clearance level.
Comply With Building Codes
Keep in mind that your city's municipal code will likely have additional requirements beyond deck reinforcement for hot tub installations. For example, you will need to hire an electrician to wire the tub (we have recommendations here too). They will comply with all code stipulations, such as ensuring there are no electric lines above the tub or determining an appropriate distance from power outlets.
Your city might also enforce safety measures, like fencing, glazing on nearby glass, or the height of overhead ceiling lights. For example, the city of Marion requires a 4-foot high barrier with a lockable gate or a lockable safety cover.
These engineering and safety requirements are extremely common across the country—none of them should be a barrier to buying a hot tub. The more knowledge you have before making your purchase, the more seamless the process will be!
Spas are a wonderful investment that will bring years of relaxation, entertainment, and therapeutic benefits. Once your hot tub has been installed with care, you can sit back and let the good times soak in.
We have a wonderful selection of Marquis and Dream Maker spas—see which one is right for your home!