Shopping for a hot tub is so much fun! It's exciting to imagine how this wonderful feature will add enjoyment to your home. Looking at brochures and floor models is a great place to start, but there's nothing like an actual soak in a hot tub. That's why we love inviting our customers to the store for a hot tub test soak. These "wet tests" are the best way to get a complete spa experience and find your perfect hot tub.
What to expect with a hot tub test soak
A hot tub test soak is like buying a car. It's smart to research online, but you ultimately need to get in one to truly check it out. During a wet test, you will soak in several models and try key features.
Once you schedule a specific time for your test soak, simply bring your bathing suit and get ready to relax! We even lower the window shades to create a sense of privacy and a nighttime feel.
We also recommend that you bring family members or friends – their opinion is just as valuable as yours. We've had everyone from couples and best friends to an entire family with six kids! Invite anyone who will spend time in the hot tub with you.
What to evaluate during a test soak
You can do a test soak at any point in your shopping process with. Sometimes we have customers who have no idea where to start and feel overwhelmed by their options. We also have customers who are debating between two favorites and are close to making a decision. Either way, a wet test is the best way to narrow down your choices.
Plan to try 3-4 models during your test soak. You'll have around 10-15 minutes to experience each spa. As you enjoy the warm waters, here are five features to evaluate:
Jets– Pay attention to jet pressure, style, and placement. For example, some people enjoy soothing hydrotherapy while others want a deep tissue massage. Some spas even offer a different jet configuration on every seat.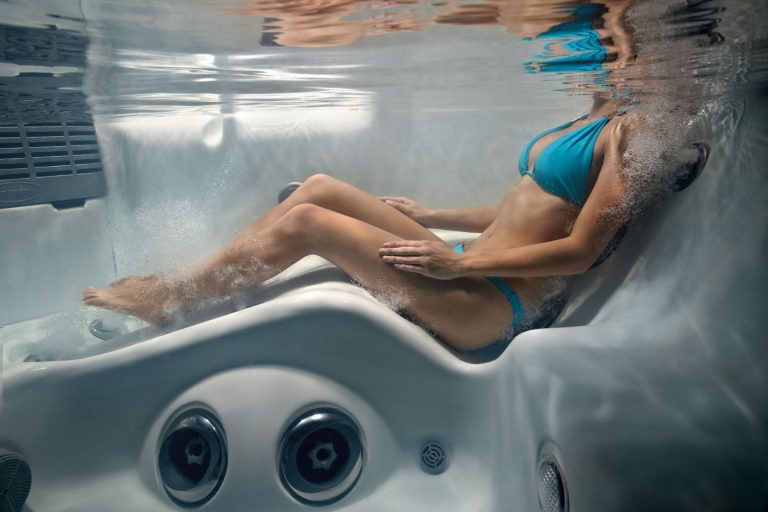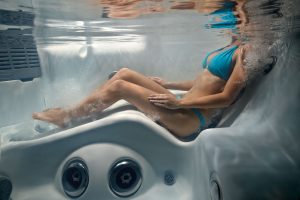 Seat Styles –Think about seat shape and height. Some models have upright seats at different levels, which ensures children and taller adults can find a comfortable place to rest. Even the difference between a straight bench and a contoured shell might change your mind. Lounging seats are also popular because they mimic a reclining chair.
Roominess– No one wants to feel crammed into a spa. This is another reason why we encourage you to invite family members. You can have several people soaking to see if everyone feels like they have enough space.
Lighting –Hot tub lighting has come a long way! Many models now have color-changing LEDs you can set to a specific mood. But some customers find that something as simple as brightness can be a deal breaker. Especially if you plan to use your spa at night, lights should feel comfortable on your eyes.
Shell and Cabinet Colors – Sometimes a picture can't do a spa justice. We have costumers who fall in love with a model in the brochure but then change their mind once they see it in real life. This is an investment that will provide years of memories– you want to feel confident you'll still enjoy the design down the road.
We can't wait to help you find your ideal spa! But please know there's no pressure to make a final decision during your test soak. Our retail staff will be available to answer any questions and are happy to send you home with additional information about your selections. Schedule your wet test here!