A sauna is an amazing way to refresh your mind and your body. There are so many wonderful therapeutic benefits, from relieving stress to easing pain. But buying your first sauna can be a little overwhelming. Especially if you go online, there are dozens of brands to research. And while internet prices may seem like a steal, sometimes they're too good to be true.
There's nothing like seeing a sauna with your own eyes and talking through your options with someone who lives and breathes saunas for a living. Here are four reasons why you should buy a sauna from a store rather than an online seller.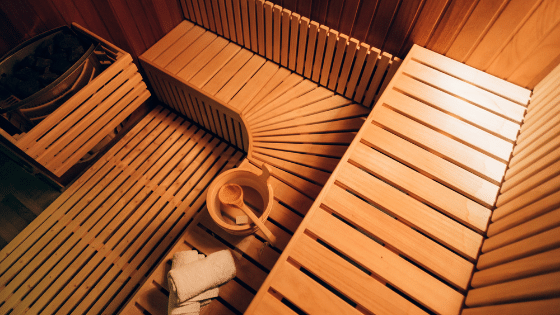 1) Trusted Dealers
We don't carry just any sauna brand. We actually have to become a certified dealer for every sauna brand in the store. It's like getting a Subaru from a Subaru dealer – a sauna dealership has to be certified to sell a line like Finnleo. We also do the initial research for you by looking at reviews, features, and material quality.
If you go online shopping, pay careful attention to the wording. It can be hard to figure out if you're getting a quality product. Some sauna sellers don't disclose what type of wood they use or that you have to purchase the heater separately. There are even a few suppliers that only sell the sauna box, not the head rests or benches.
2) Better Warranties
How do you know if a company stands behind its sauna? Look at the warranty. The manufacturer is essentially betting on how long their products will last, so the longer the better. A good warranty should last about seven years or more.
With online sauna dealers, the warranty may be only a few years or exclude certain parts. Check if the heater, thermostat, lighting, wiring, wood, and control panels are all covered. If not, that's a red flag.
 3) Troubleshooting and Repairs
We're not being snobs when we say we can't service a sauna we haven't sold! As a certified sauna dealer, we are only authorized to order and repair parts for brands we carry. But that also means our technicians have expert training on those models (more on that in a second).
If you bought a sauna online and experience an issue, you'll have to call a 1-800 number or use a live chat. Hopefully a representative can walk you through troubleshooting, but you still have to act as a service tech to figure out the problem. Who has time for that?
 4) Knowledgeable Store Staff
We take pride in educating ourselves about our sauna brands. Our staff has a combined 20+ years of experience with sauna installations. We even regularly visit the Finnleo factory in Minnesota to receive hands-on training. We are passionate about our saunas!
For example, we had a client who kept experiencing a tripping breaker. Our staff was able to go their house, get tech support on the phone, and diagnose the problem. Turns out it was an electrical issue and not a heater malfunction, but our customer was so relieved to have some guidance!
Buying a sauna at a store is all about customer service. You deserve a great shopping experience and the confidence that your sauna will be a relaxing part of your home for years to come.
There's still time to soak up our InfraRED, WHITE, & BLUE Sale! Through the end of July, you can save 17.76% off ALL Finnleo infrared saunas exclusively through Splash Pool & Spa. Read more to learn about Finnleo infrared saunas.