Every hot tub brand is unique, and Marquis Spas brand hot tubs include features you can't find anywhere else. We've been carrying this brand since opening our retail showroom in 2018 – that's how much we love it! Made in the USA, Marquis Spas have an amazing array of one-of-a-kind options. Here are the top three features we love about Marquis Spas.
1) MicroSilk
Not everyone loves the roar of geyser and whirlpool jets. Sometimes you just want to slip into mellow waters and watch your cares melt away. Enter MicroSilk®, a cloud of soothing oxygen bubbles.
MicroSilk is an exclusive Marquis Spas technology. These tiny bubbles are both a beauty treatment and a soothing form of hydrotherapy. Some of our customers feel that MicroSilk improves their skin, helping to restore hydration, cleanse pores, promote cell growth, and even combat eczema. Others simply enjoy the tranquil feeling of gentle water movement and whisper-quiet jets.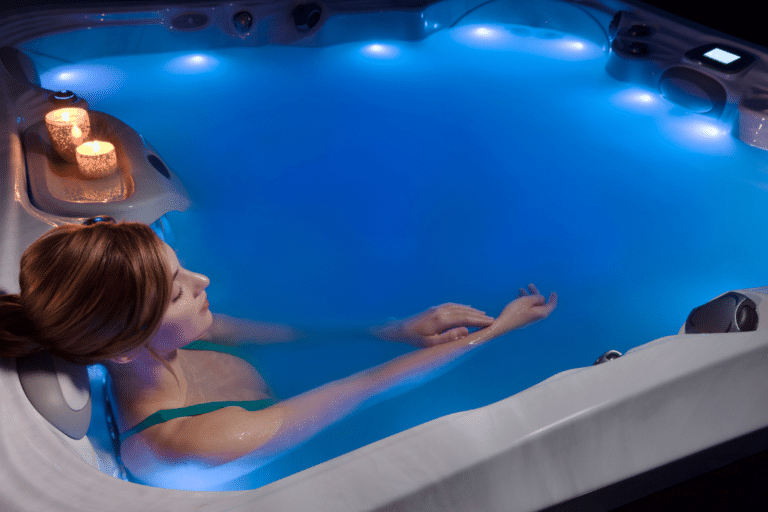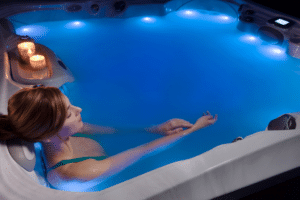 2) H.O.T. Zones
Have sore muscles that you need to soak? Marquis offers H.O.T. Zones, which stands for High Output Therapy. These laminar jets deliver a high flow of water volume that promotes deep relief yet won't irritate your skin from the pressure. H.O.T. Zones are positioned to ease tension out of shoulders, the lower back, and feet.
Best of all, you can channel one of the two pumps to create a variety of therapies. The 3-2-1 Zone Control valves will direct the pump's flow to individual seats, only H.O.T. Zones, or a combination. This is perfect when you have multiple users who have different jet preferences.
3) Marquis Environments
A hot tub is more than a vessel of water – it's part of your outdoor living room! This is a space where you spend hours of time. Marquis Environments transform your hot tub space into an inviting oasis.
Environments is a series of mix-and-match modules. They are designed to blend into the tub shell and create a cohesive look. Many customers enjoy adding a step, which is a more graceful way to enter and exit the hot tub. Others appreciate the many options for storage benches which can double as a comfy place to sit and chat.
We offer three Marquis lines: Signature Series, Elite, and Vector21. Pop into the store to see our models in person – you can even schedule a test soak! View our current hours here.