Hot Spring Spas is one of two top-rated hot tub brands in the Splash Pool & Spa family! These spas have some amazing features that other manufacturers simply don't offer. We could go on for days about how much we love these tubs, but these three features truly put Hot Spring in its own class.
1) FreshWater Salt System
Not in love with traditional chlorine? The FreshWater Salt System eliminates the fuss with chemical treatments. Its titanium cartridge turns chlorine into salt, which sanitizes the water. The result is water that smells and feels more natural. That can be a relief for your skin and eyes.
The system operates with a simple button on your tub's control panel. The cartridge lasts for four months and can be replaced without any tools. You can even add a FreshWater Ag+ silver ion cartridge that super-oxidizes your spa water. Less time worrying about water quality means more time enjoying your hot tub!
You also won't have to drain your tub as often. With proper maintenance, the FreshWater Salt System keeps your water safe and clear for an entire year. Available on all Highlife Collection and Limelight Collection spas.
2) Indicator Logo
We truly have never seen this before! The glowing Hot Spring logo is actually an indicator light. The lower blue portion shows that the power is on. When the top portion is green, the hot tub water is at your selected temperature. Simply look out a window or door to confirm it's time for a dip. It's a feature we certainly appreciate in the winter!
The indicator also changes to yellow when there is a maintenance issue, usually something as simple as filter cleaning. The logo can even switch to red if you need to call your dealer to diagnosis a more advanced issue.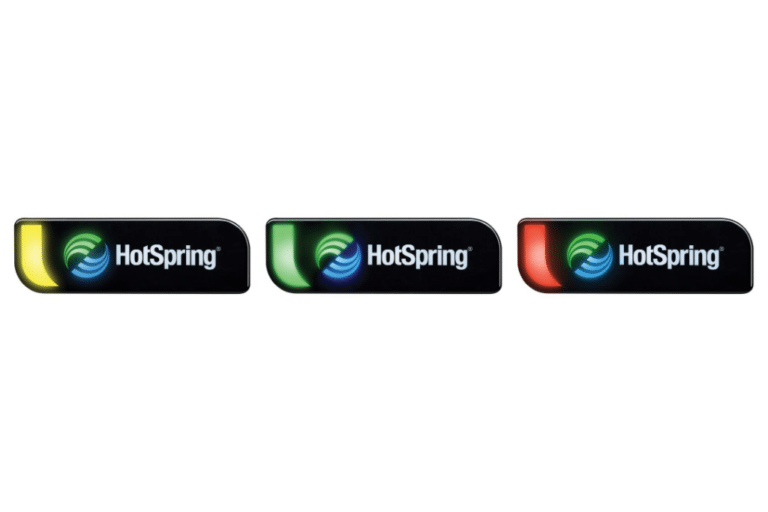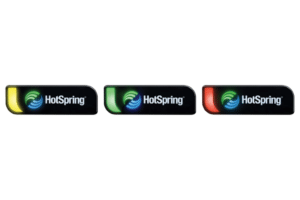 3) CoolZone System
When the weather gets hot and humid, it can feel too muggy to sit in a hot tub. Hot tub water is typically around 100 degrees – that's intense when the outside air is nearly the same temperature! With the CoolZone system, you can lower your water temperature down to 60 degrees.
CoolZone is perfect during the summer months, especially if you don't have a pool. We also have some customers who enjoy soaking at a milder temperature. Some athletes even use CoolZone to recover faster after a hard workout.
It only takes a few hours to lower or raise temperatures, so you can easily plan ahead. CoolZone is available on the Grandee, Envoy, and Vanguard models.
Read this post to learn about other amazing features we love about Hot Spring hot tubs. You can also visit us to look at our floor models. Our summer hours are M-F 10am-6pm or Saturdays 10am-4pm.