One of the best parts about owning a hot tub is the hours of relaxation it provides. After a hard day, you can slide into a swirl of warm bubbles and soak away your cares. That's why we're so excited to announce we've added a NEW line of hot tubs! We are now an official authorized dealer for Hot Spring Spas. We are carrying three lines: Hot Spot, Limelight, and Highlife. Every model has unique and exciting features that will elevate your hot tub experience. Come take a peek!
Therapeautic Benefits
Hot tubs are great for reducing stress as well as easing tired muscles. Hot Spring Spas delivers hydrotherapy that helps to stimulate circulation and ease pain levels. Every model has directional jets that gently massage your neck, shoulders, back, and even your feet.
Hot Spring also offers its exclusive Moto-Massage®. This feature creates a jet that travels up and down your back like an underwater shiatsu massage.
Thoughtful Features
One of many things we love about Hot Spring is the lighting. They've taken color-changing LEDs to another level! Set the mood with one of six rainbow colors or program your spa to cycle between each vibrant shade.
Lights have also been added to the footwells for added visibility, which is perfect for evening use. The Limelight collection even has illuminated corner edges that provide great accent lighting.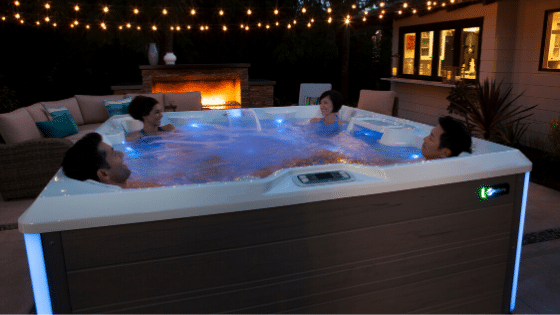 Hot Spring Spas models come in a range of sizes for couples or small patios up to large families and spa parties. Hot Spot has seating for 6-7 people, Limelight can hold 4-7, and Highlife accommodates 3-7. All lines have options with loungers if you want to recline in style.
Smart Maintenance
The Hot Spot line includes an in-line sanitizing system. The dispenser automatically releases chlorine and minerals to simplify daily dosing. Chlorine cartridges last up to four weeks and minerals are good for up to four months.
There's even a secret feature – the illuminated Hot Spring logo is actually an indicator light! The blue light shows that the power is on while the green light displays when the water reaches the set temperature. In chilly weather, you can look out your window to see if your spa is ready. The indicator will also turn yellow or red if the spa needs service.
Available on the Highlife and Limelight lines, the FreshWater Salt System is perfect for owners who want to take the guesswork out of water quality. Your water will last longer, require fewer chemicals, and have a more natural feel.
User-Friendly Technology
The Highlife Collection also includes a detachable control panel. This wireless touchscreen is easy to operate and even floats on the water. You can customize everything from lighting and jet settings and save them as presets.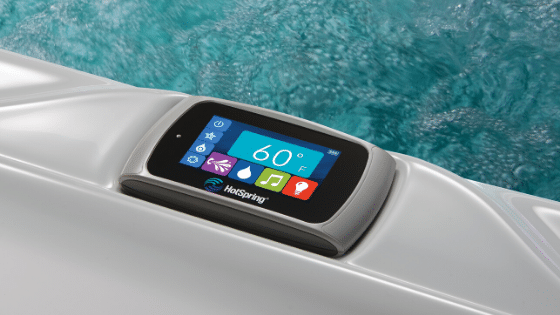 We would love to share more details about Hot Spring, including features like pumps, heaters, filters, cabinet colors, audio speakers, covers, and warranties. Please stop by our Cedar Rapids showroom location or contact us to schedule a Sip & Soak!
November 1 – 15th only, take advantage of our November Big Spender Rebate promotion on HotSpring Spas.