What is nobler than soaking in hot tub luxury? With a name that is synonymous with European aristocracy, Marquis Spas hot tubs have been delivering "the ultimate hot tub experience" for nearly 40 years. We offer three Marquis lines: Signature Series, Celebrity, and Vector21. Learn about why we are proud to carry these models in our showroom!
Exceptional Soaking
Imagine being submerged in a soothing mist of bubbles. MicroSilk is an exclusive oxygen treatment offered by Marquis on select models. MicroSilk bubbles are "approximately 50 to 100 times smaller than a typical hot tub bubble," resulting in an underwater cloud of gentle relaxation. This feature runs on a separate pump than your jets for a whisper-quiet experience.
Not only does MicroSilk feel great to the touch, but it can promote skin health as well. With oxygen levels at 70% higher than tap water, MicroSilk has the ability to create fresh and glowing skin.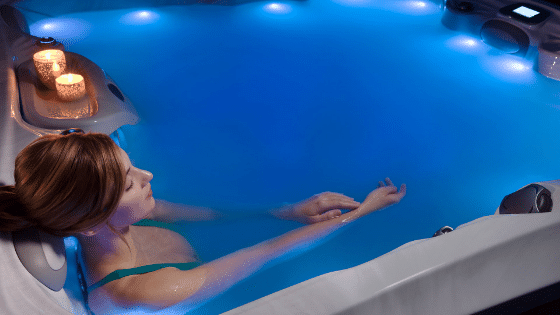 Targeted Hydrotherapy
Muscle pain, old injuries, arthritis, fibromyalgia – these are just a few of the many medical conditions that can be aided by a hot tub. Signature Series jets are specifically designed to alleviate discomfort. Using a higher output, these H.O.T. Zones create a laminar flow. Users can target the flow to specific areas without worrying about damaging or irritating skin.
Multiple Massage Modes
Everyone can benefit from an array of massage therapies – why limited yourself to one type of hot tub jet? The Vector21 line features distinct Jetpods that can be adjusted or rotated. Pick from deep tissue, relaxation, shiatsu, or Swedish massage configurations. With so many great options, you may have some competition for your favorite seat!
Vector21 models also include Variable Velocity Valves (V3). Users can throttle the flow from 0 to 100% on specific seats to create a truly customizable flow.
Relaxing Reflexology
Your feet are the first ones into the hot tub and the last ones out – they deserve some extra care! Reflexology is a therapy that applies pressure to spots on the feet that are thought to correspond to other areas of the body. The footwells in the Signature Series and Vector21 models have a pebbled texture that stimulates and massages your soles.
Customizable Designs
Need a spot to set drinks, store towels, or add extra seating? Marquis Environments are mix-and-match pieces that include steps, benches, cabinets, stools, and even planters. There are even curved benches and steps that seamlessly fit around your tub's corners.  Modules are available in five composite colors that coordinate perfectly with your hot tub shell. Environments allow you to create a true outdoor living space with your hot tub as the centerpiece.
Our Annual Floor Model Clearance Hot Tub Sale is active through December 31st! We would love to share more details about Marquis Spas, including features like ConstantClean, aromatherapy, SpaTherapy products, touchscreen controls, and LED lighting. Stop by or contact us for more information.