This week we broke out the confetti and cake for…wait for it…National Cut Energy Costs Day! Wait, you did too? Then you'll love these tips we've put together on how to take full advantage of the subject and cut your swimming pool energy costs this year.
Energy efficiency continues to be a hot topic of discussion for our lifestyles in general, but when it comes to swimming pools, there are ways to cut costs and conserve energy, as well. Here's what we recommend:
Invest in a variable speed pump
Whether you're building a new pool or needing to replace the pump on your existing, investing in a variable speed pump is the most advisable way to save on your swimming pool energy costs. A variable speed pump can be programmed to run at the minimum speed necessary to complete tasks relevant to the upkeep of your pool e.g. cleaning, heating, etc.
Pentair offers a wide range of variable speed pumps to fit your needs and budget like the IntelliFlo VF and many more.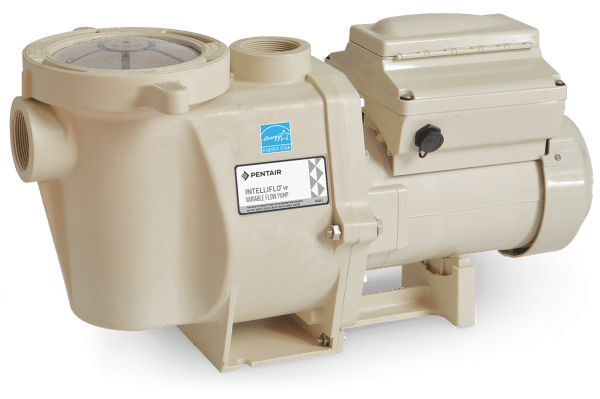 If you're the type of person who needs proof…as in "Show me the money" proof, check out this handy savings calculator to learn just how much you will save by switching to a variable speed pump.
Make sure you have a pump that fits the size of your pool
Many pool owners commonly make the mistake of installing a swimming pool pump that is the incorrect size for the pool they have. The larger the pump, the harder it works; as a result increasing your swimming pool energy costs.
To reduce costs, make sure you have the smallest pump necessary to accommodate the size of your pool. Typically for residential pools a .75 horsepower pump will do the trick. Of course if you're not sure if you have the "right sized" pump, you can always request a house call from us here to provide you with our expert analysis.
Use a robotic cleaner
A robotic cleaner may cost more upfront, however, the investment will save you on your swimming pool energy costs in the long run. There are three pool cleaner options: suction-side, pressure-side, or robotic. Robotic cleaners are considered the most energy efficient of the three, by far, saving you up to $500 annually based on lower kilowatt usage.
Kreepy Krauly by Pentair Prowler 920
Be mindful of off-peak times
As children we were taught to turn off the lights when leaving the room. The same lesson can be applied when running pool equipment, lighting, and water features.
During off-peak times and times when you are not using your swimming pool, turn off your pool lights, water features, or other pool equipment to conserve energy. With the advanced technology and automated controllers of today, you can event program the times that all of this occurs.
Flip the switch to LED lights
Upgrading to LED lights in your pool can not only save you money, but also the hassle of having to change lightbulbs constantly. If building a new pool, LED installation is common practice. If you have an existing pool, transitioning from incandescent bulbs to LED will depend on the light niche installed at the time of the pool construction, however, there are solutions for this, as well.
What are ways you have found to cut your swimming pool energy costs?