Are you stocked up on your favorite pool and spa chemicals for the next year? Even though it's deep winter right now here in Iowa, you can still plan ahead for the upcoming summer months. We encourage all our customers to early buy their 2020 chemicals. It's an easy way to ensure you are ready to go when the weather is warmer. Here are five reasons why stocking your chemicals now is a smart move.
1) Discounts
Who doesn't love a good deal? We offer a 25% discount on pool chemical orders over $500 and spa chemical orders over $150. And when you commit early, you'll snag a guaranteed 15% off all additional chemical purchases for the rest of the year.
Your chemical order will also count toward our Splash Lane Rewards Program where you can earn Splash Cash! For every $10 you spend, you earn a $1 reward you can redeem quarterly. This applies to both your initial order and your additional 15% off orders.
You can also have the satisfaction of shopping locally and supporting a small business whenever you order from us. Our products are not only affordably priced but guess what? NO shipping charges!
2) Product Availability
We are diligent about ordering chemical supplies. The problem with buying products at a big-box store is that those items are rarely refilled once they run out. You don't want to be near the end of the season and have to close early because you can't find the right treatments. Avoid that headache by ordering ahead of time through us.
3) Customized Ordering
It's not fun to figure out your chemical needs for an entire year. You have better things to do than hunt down receipts and crunch numbers. Let us do the math for you!
Our recommendations aren't generic either – they're specifically tailored to your household. That's because we keep a profile of your pool or spa on file. That way we know your gallon capacity, manufacturer recommendations, previous chemical purchases, and water quality tests. We use those figures to estimate how much you'll need to buy.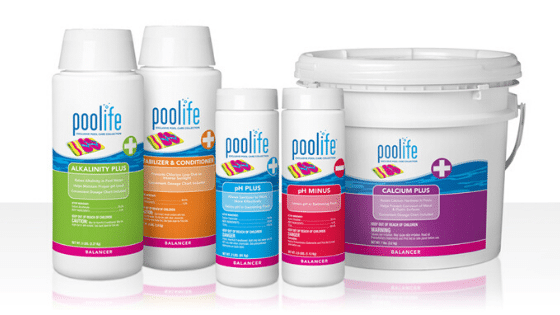 4) Staff Expertise
We are water geeks here at Splash Pool & Spa! No seriously, we love talking about water chemistry. So when you come in to pick up your order, please pick our brains! For new and long-time customers alike, we guarantee we'll always have a useful tip to share (like rebalancing your water after a big party…).
5) VIP Treatment
Special delivery anyone? Schedule us to perform your pool opening services and we'll drop off your chemical order while we're at it. One less errand to run is always a good thing!
More of a DIY person? We can store your chemicals at our retail location through April 30th. You can tackle all of your spring maintenance and then swing by to pick up your order. Either way, your pool or spa water will be ready for hours of fun in no time!
The last day to early buy your chemicals is March 31. We carry brands such as Poolife, Brilliance, and Baqua Spa. More details here.