It's finally spring! There's nothing like enjoying a soak in your spa in the comfort of your own backyard. If this is your first time buying an outdoor tub, we have a few tips to share with you. Because there's always a big rush in April-May for concrete and electrical work, now is the time to get on the schedule for your hot tub project installation. Here are three questions our customers commonly ask.
1) Why do outdoor hot tubs need a foundation?
Water is heavy! A typical hot tub holds 400 gallons. One gallon weighs around 8 pounds, so that's roughly 3,200 pounds. And that doesn't include the tub shell or people sitting in it!
Hot tubs need a foundation for the same reason that a house does. A foundation will stabilize all that weight and keep it from going anywhere. If you place your spa on just grass, it won't have enough support underneath. It's like parking a car on a lawn for any length of time – the ground will eventually shift and tilt.
Another reason to use a hot tub pad is to provide a level surface. Spas are generally made of a wood frame and an acrylic shell. They're designed to hold thousands of pounds of water and people, but only if they are even with the ground. If they aren't resting on a flat surface, the unbalanced weight will put stress on the hot tub elements.
2) Are there different options for hot tub pads?
We recommend using a concrete slab. They provide the most stability because they have a solid base. You can also add extra concrete around your hot tub to create a nice patio area. We even have customers who take this opportunity to add a path to their hot tub – it's a smart way to avoid grass getting stuck to your feet!
Some homeowners like the look of patio pavers or stone blocks as a foundation because they're more decorative. However, keep in mind that individual bricks can sometimes crack or sink at random. Like sidewalk stones, they can become lopsided over time.
You can also add a hot tub to your deck. You'll need to have a structural engineer add extra supports because regular decks aren't reinforced for this type of weight. But it's worth it to simply open a door and be right next to your hot tub!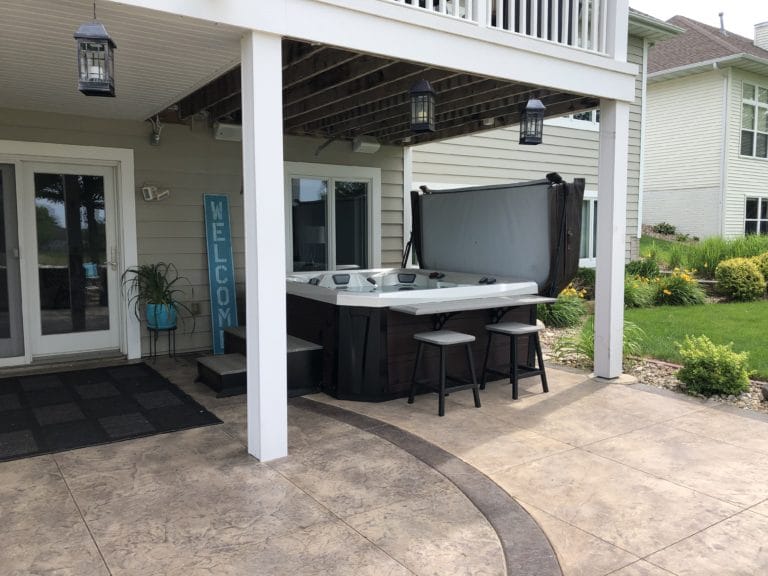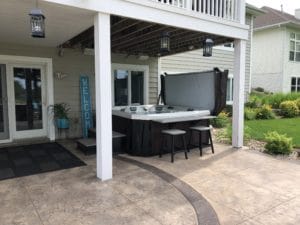 3) How many contractors do I need to hire for my hot tub installation?
Plan on three contractors for concrete work, electrical, and landscaping. There are a few good reasons to hire these professionals.
Concrete – If you don't love DIY projects, let a pro handle this part. They have the training, experience, and patience to give you a perfectly level concrete or paver foundation. Your hot tub can last up to 20 years – you want your pad done right the first time!
Electrical – Remember that the majority of hot tubs require 220V but most household outlets are a standard 110V. You will likely need to upgrade your outdoor outlet so you have enough power to run the jets and heater.
Landscaping – Many homeowners often have to remove or alter their landscaping to install a hot tub. Plus you want something relaxing to look at while you soak! A professional landscaper will prepare your yard for installation and create a beautiful escape afterward.
Coordinating three trades is why we suggest booking early. Contractors get really busy in the spring and you don't want to be at the back of the line. Schedule now so you don't miss out on weeks or months of hot tub time!
We have several trusted contractors that we work with on all aspects of hot tub project planning. If you need a recommendation, just give us a shout!